Revelstoke!
There's a new food truck in town!


Fast food has reached a whole new level in recent years thanks to the rise in popularity of the food truck.
---
We no longer have to settle for the same old fast food choices. Any time I see a food truck I take note for the following reasons:
My dogs are in my vehicle and I don't want to leave them unattended.
I don't want to make food myself but I also don't want to step foot in a busy restaurant.
Menus are typically small and sometimes I have trouble making decisions when there are too many options.
The food that comes out of them is usually pretty fabulous.
Check out this deliciously gooey photo of Killa B's classic grilled cheese sandwich: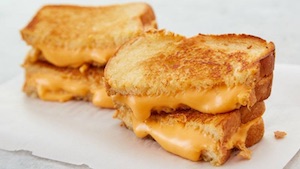 A classic sourdough grilled cheese will set you back a mere $5 and includes mozza, cheddar and one of their signature dips! You also have the option of adding extra meat, cheese, veggies, or dips and their "Signature Melts" offer some interesting combinations to try.
Right now, they are located at the Revelstoke rest area just over the bridge on highway 1.